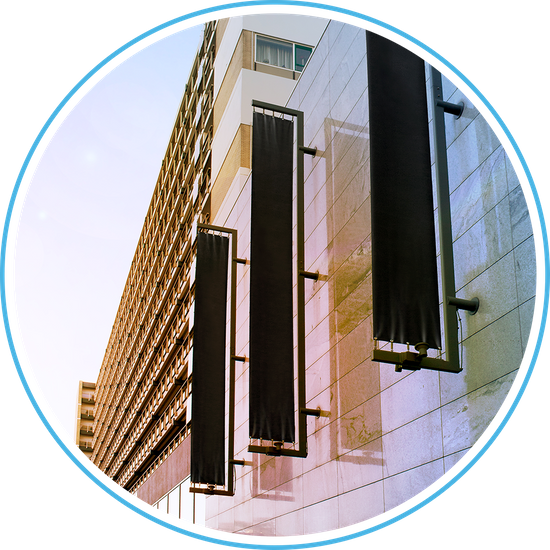 MAKE YOUR STATEMENT WITH CUSTOM BANNERS AND SIGNAGES
Are you looking for a unique sign and banner for your company? Unfortunately, many signages become obsolete as the market evolves. Banners, on the other hand, have stood the test of time.
Customized banners and signages from us are straightforward, affordable, and practical to Baltimore companies. In addition, they draw a considerable amount of attention to your brand when placed in strategic locations across Baltimore. As a result, numerous firms use a banner in their advertising campaigns.
Combine your powerful, strong message with our wonderfully crafted pictures to create eye-catching signages and banners that stand out. When it comes to banners and signages in Baltimore, our staff can assist you! Contact us at 1-410-483-7200 for your banner printing needs.
ATTRACT A LARGE AUDIENCE. GAIN MORE LEADS
Banners and signs are an indispensable component of any successful business strategy. They are often the first engagement your company will have with targeted users because they are eye-catching, notable, and capable of conveying information instantly. So, if you've had a brand that needs to be advertised, there is no more innovative method to do so than by investing in high-quality, well-designed banners and signages from Baltimore.
Our team at Premier Business Technologies provides various services to meet your sign, logo, and visual requirements, and we work towards making your experience simple and appealing. We enjoy seeing our clients achieve by delivering precisely what you need.
ALLOW PB TECHS TO BRING YOUR IDEA TO LIFE
We prioritize customer connections by providing outstanding customer service and industry-leading knowledge. This includes giving our clients the peace of ease knowing they are in capable hands. When you deal with Premium Business Technologies, you'll have an expert who will oversee the whole project from beginning to end.
We can help you whenever you need signage or a banner. We provide our clients with:
Personalized signs and banners for any indoor or outdoor location
All types of custom signage and banners are designed, installed, and removed using the best quality products and materials.
Skilled professionals to ensure that your request will effectively communicate your statement.
Specially designed signage of the highest quality, tailored to your brand's success.
WHAT CAN BANNERS AND SIGNAGES DO FOR MY BRAND?
Banners and signages may help individuals remember your brand. Furthermore, our printing services provide an inexpensive way of achieving the following objectives:
Brand Recognition
Clients must first be aware that you exist before they can even conduct business with you. A banner alongside your business makes it simpler for customers to discover you and learn about the items or services you provide.
Simple to personalize
Your brand competes with several other firms that provide similar products and services. With banners with their various customization choices, you can stand out in a crowd.
Rapid Turnaround
Banners and signages may be printed in as little as one business day. They are simple and quick to make, making them ideal for last-minute advertising.
Versatile
Any event may benefit from banners and signs. They can be displayed everywhere there is heavy traffic for optimal exposure, from trade exhibitions to gatherings.
AN IMPRESSION WTH A SIMPLE AND EYE-CATCHING DESIGN
It's nearly hard to overestimate the promotional benefits of professionally made banners and signage. With banners and signs from Premium Business Technologies, imagination is the only limit. Banners and signs not only help you reach people, but they also help them discover you. So select Premium Business Technologies and increase the visibility of your company now.
BUILD YOUR BUSINESS WITH BOLD BANNERS AND SIGNAGES
Trust your brand to our banner and signage services for your business needs. We will provide the value and quality that you will be proud to showcase. To get started, use our quoting system to request an estimate for custom signs and banners.
Contact us right away for dependable banner and signage services in Baltimore and neighboring regions! Fill out the form to the right to request a free quote.
Copier Printer Brands We Sell: